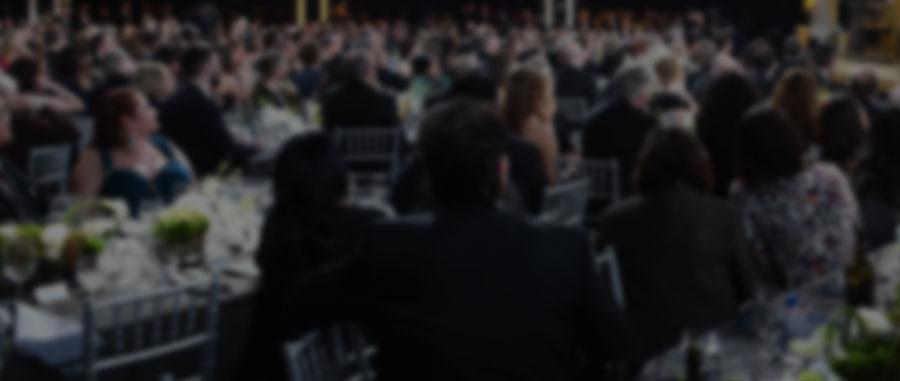 Honorees to be revealed on Sunday, Jan 29 on People, EW & TNT's SAG Awards® Red Carpet Live Pre-Show which begins at 5:30 p.m. (ET) / 2:30 p.m. (PT)
LOS ANGELES (Jan. 27, 2017) — SAG-AFTRA President Gabrielle Carteris and SAG Awards® Committee Chair JoBeth Williams will announce the honorees for Outstanding Action Performances by Film and Television Stunt Ensembles from the 23rd Annual Screen Actors Guild Awards® red carpet, SAG Awards Executive Producer Kathy Connell announced today.
Audiences can watch Carteris and Williams reveal the names during the first half-hour of the People, EW & TNT's SAG Awards® Red Carpet Live pre-show, which will stream on sagawards.tntdrama.com, sagawards.org, the People/Entertainment Weekly Network (People.com/PEN), EW.com, InStyle.com, Essence.com, and Time.com, beginning at 5:30 p.m. ET / 2:30 p.m. PT.
The Stunt Ensemble honors commend work within the stunt community during 2016 and recognize stunt performers and coordinators. Nominees chosen by their respective SAG Awards film and television nominating committees were announced on Dec. 19, 2016. Information on voting procedures to choose the recipients was sent to the 121,546 active voting members of SAG-AFTRA on Dec. 16. Balloting closed at noon on Friday, Jan. 27. Integrity Voting Systems, the Awards' official election teller, keep the results sealed until Carteris and Williams announce them.
The nominees for this year's Outstanding Action Performances by Film and Television Stunt Ensembles are:
Outstanding Action Performance by a Stunt Ensemble in a Motion Picture
"CAPTAIN AMERICA: CIVIL WAR" (Walt Disney Studios Motion Pictures)
Keith Adams
Chris Jai Alex
Raven Baker
Sala Baker
Joanna Bennett
Daniel Bernhardt
Richard Blackwell
Shellita Boxie
Jeanette "JJ" Branch
David Brown
Dartenea Bryant
Jwaundance Candece
Shane Cardwell
Vonzell Carter
Kevein Cassidy
Rich Cetrone
Fernando Chien
Alvin Chon
Jason Chu
Tyrone Claybrook, Jr.
Doug Coleman
Stephen Conroy
Brandon Cornell
Brycen Counts
Lateef Crowder
Wally Crowder
Thomas Joseph Culler
Phil Cullota
Chris Daniels
Jaeson Daniels
Gui DaSilva-Greene
Elizabeth Davidovich
Keith Davis
Kent De Mond
Julies Denim
Thomas Dewier
Holland Diaz
Arturo Joe Dickey
Josh Diogo
Alyma Dorsey
Kevin Dyer
Richard Epper
John Escobar
Guy Fernandez
Glenn Foster
Monique Ganderton
Mickey Giacomazzi
Andy Gill
Austin Gill
Jack Gill
Garrett Hammond
Daniel Hargrave
Kandis Hargrave
Sam Hargrave
Regis Harrington
Thayr Harris
Jimmy Hart
Alexandra Hashioka-Oatfield
Nicholas Hayner
Randy Haynie
Adrian Hein
Zachary Henry
Nate Hitpas
Jermaine "JT" Holt
Crystal Hooks
Damita Howard
David Hugghins
Jacob Hugghins
Michael Hugghins
Tony Hugghins
Scott Hunter
Duke Jackson
Reggie Jackson
Znequet "Zee" James
Precious Jenkins
Bobby Jordan
Courtney Julien
Antal Kalik
Steve Kelso
Umar Khan Baber
Hank Kingi
Henry Kingi
Horrace Knight
Ralf Koch
Efka Kvaraciejus
Bethany Levy
Cheryl Lewis
Jay Lynch
Jeremy Marinas
Hans Marrero
Maggie McDonald
Kyle McLean
Sarah Molasky
Heidi Moneymaker
Spencer Mullign
Robert Nagle
Niko Nedyalkov
Phi-Lyon Nguyen
Daniel Norris
Marque Ohmes
Eric Oram
Jane Oshita
Allan Padelford
Travis Parker
Denny Pierce
Damion Poitier
Austin Priester
Brian A. Prince
Spiro Razatos
Sarah Reagin
Greg Rementer
Antjuan Rhames
Jimmy Roberts
Toddy Rogers Terry
Marvin Ross
Maya Santandrea
Matt Schieb
Jordan Scott
Joshua Russell Seifert
John Shim
Brian Simpson
Josephy "Buddy" Sosthand
Jackson Spidell
Scott Sproule
Daniel Stevens
Larnell Stovall
Eric Stratemeier
Justin Sundquist
C.C. Taylor
Nancy Thurston-Hugghins
Aaron Toney
Amy Lynn Tuttle
Eric Van Arsdale
Mark Wagner
Jennifer White
Joe Williams
Scheryl Williams Brown
Dante Won Ha
Nico Woulard
Kofi Yiadom
James Young
Justin Yu
"DOCTOR STRANGE" (Walt Disney Studios Motion Pictures)
Hank Amos
Billy Anagnos
Nina Armstrong
Wendy Armstrong
Chris Barnes
Lloyd Bass
Bobby Beckles
Richard Bradshaw
Michael Brady
Nick Brandon
Katie Bullock
Mike Burke
Nicole Callender
Chris Cenatiempo
Nick Chopping
Jim Churchman
Ben Collins
Chris Colombo
Rob Cooper
Chris Cordell
Blaise Corrigan
Kachina Dechert
Michelle DeMond
Hung Dante Dong
Zoli Dora
Norman Douglas
Daniel Dow
Dom Dumaresq
Justin Eaton
Pete Epstein
Jonathan Eusebio
Roy Farfel
Mark Fichera
Colin Follenweider
Pete Ford
Sarah Franzl
Tim Gallin
Tony Guida
Jeff Habberstad
Shane Habberstad
Trevor Habberstad
Gene Harrison
Dee Harrop
Cort Hessler
Don Hewitt
Owen Holland
Jessica Hooker
Gary Hoptrough
Erol Ismail
Kevin Jackson
Steve Jehu
Shawn Kautz
Ishmeal Khan
George Kirby
Tomasz Krzemieniecki
Jennifer Lamb
Paul Leonard
Lukaz Leong
Guy List
Jean Paul Ly
Steve Mack
Leigh Madern
Devon McKenzie
Richie Mead
Chaz Menendez
Casey Michaels
Tracey Michaels
Sarah Molasky
Mark Mottram
Rory Mulroe
Mick O'Rourke
Janet Paparazzo
Justin Pearson
Rashid Pheonix
Andy Pilgrim
Laurent Plancel
Jodi Pynn
Bill Richards
JC Robaina
Thomas Robinson Harper
Elliot Santiago
Julia Schunevitsch
Myke Schwartz
Joanna Shelmadine
Charles Shults
Dave Shumbris
Manny Siverio
Karen Smithson
Mark Southworth
Matthew Sterling
Kimmy Suzuki
Gary Tacon
Drew Taylor
Karren Teoh
Pat Walsh
Vincent Wang
Jeff Ward
Leo Woodruff
"HACKSAW RIDGE" (Lionsgate)
Lee Adamson
Jade Amantea
Cameron Ambridge
Yoshinao Aonuma
Yasushi Asaya
Keir Beck
Cory Beeston
Andrea Bertchold
Damien Bryson
Sean Button
Marky Lee Campbell
Glenn Chow
John Costelloe
Darvin Dela Cruz
Mark Duncan
Kim Fardy
Toby Fuller
Kyle Gardiner
Aiden Gillett
Caleb Guinery
Luke Ha
Nigel Harbach
Shinji Ikefuji
Yukata Izumihara
Nathan Kannegiesser
Beau Karolos
Jack Kingsley
Re-Jie Kwok
Nathan Lawson
Jace Lee
Blake Linsdell
Kenny Low
Codie Mackie
Lance Masa
Michael Matthews
Andy Minh Trieu
Chris Mitchell
Tomoki Miyamoto
Stephen Murdoch
Simon Murrell
Philip Partridge
Paul Pedersen
Mic Rogers
Andrew Stehlin
Ryan Tarran
Josh Tieu
Ben Toyer
Nick Turello
Karl Van Mooresel
Lachlan Ward
Mark Wickham
Jono Wong
Tim Wong
Casey Wright
Masa Yamaguchi
"JASON BOURNE" (Universal Pictures)
Mark Archer
Sarah Armstrong
Gary Arthurs
Asen Asenov
Katy Bullock
Marvin Campbell
Rob Cooper
Ben Dimmock (DBL)
Jamie Dobb
Paul Edmondson
Rick English (Asset DBL)
Bradly Farmer
Evangelos Grecos
Calvin Heasman
Rob Herring
Clement Heut
Gary Hoptrough
Adam Horton
Jason Hunjan
Borslav Iliev
Martin Ivanov
Luke Kearny
Samuel Kefi
Tolga Kenan
Cristian Knight
Mathieu Lardot
Claire Lawrence
Guy List
Andy Lister
Joe Livermore
Marc Mailley
Alex Martin
Kameren Melford
Lee Millham
Brian Nickels
Gary Powell
Peter Robinson
Jean Charles Rousseau
Olivier Sa
Craig "Frosty" Silva
Curtis Small
Venice Smith
Dave Ware
Reg Wayment
Alistair Whitton
Annabel Wood
Roger Yuan (Fight Coord)
"NOCTURNAL ANIMALS" (Focus Features)
Nikki Brower
Jack Gill
Ryan Happy
Steve Kelso
Mandy Kowalski
Daniel Leavitt
Tara Paige
Mark Scisak
 
Outstanding Action Performance by a Stunt Ensemble in a Comedy or Drama Series
"GAME OF THRONES" (HBO)
Boian Anev
Kristina Baskett
Rachelle Beinart
Ferenc Berecz
Richard Bradshaw
Michael Byrch
Nick Chopping
Jon Costelloe
Christopher Cox
Jake Cox
David Cronnelly
Matt Crook
Ricardo Cruz Jr.
Levan Doran
Bradley Farmer
Vladimir Furdik
David Garrick
Angel Gomez
Richard Hansen
Rob Hayns
Bobby Holland Hanton
Lyndon Hellewell
Gergely Horpacsi
Paul Howell
Radoslav Ignatov
Rowley Irlam
Erol Ismail
Filip Kadlec
Milen Kaleychev
Laszlo Kosa
Norbert Kovacs
Jesus Lopez
Leigh Maddern
Jonathan McBride
Leona McCarron
Kim McGarrity
Richard Mead
Ivan Mica
Casey Michaels
Sian Milne
Daniel Naprous
David Newton
Bela Orsanyi
Ivan Orsanyi
Jason Otelle
Radoslav Parvanov
Ian Pead
Rashid Phoenix
Andy Pilgrim
Oleg Podobin
Marc Redmond
Andrej Riabokon
Zach Roberts
Antonio Ona Sanchez
Stanislav Satko
Paul Shapcott
Jonny Stockwell
Venicslav Stoyanov
Ryan Stuart
Gaspar Szabo
Lukas Tomsik
Gyula Toth
Marek Toth
Edward Upcott
Raycho Vasilev
Andy Wareham
Calvin Warrington Heasman
Leo Woodruff
"MARVEL'S DAREDEVIL" (Netflix)
E. Calvin Ahn
William G. Anagos
Airon Armstrong
David Armstrong
Bryce Biederman
Chris Brewster
Timothy Thomas Brown
Scott Burik
Bryce Burke
Mike Burke
Steve DeCastro
Jayson Dumenigo
Jake Eavey
John Finnerty, Jr.
Aja Frary
Edward Gabree
Tim Garris
Shane Geraghty
Chris Gombos
Roberto Guitierrez
Dante Ha
Ed Heavey
Donald Hewitt
Don Hewitt, Jr.
Don Hewitt, Sr.
Alvin Hsing
Myles Humphus
Aaron Joshua
Micah Karns
Rissa Kilar
Lauren Kim
Pete Klein
Tim Lajcik
Josh Lakatos
Matt Leonard
Luke Lesko
Corey M. Lincoln
Eric Linden
Roberto Lopez
Steve Mann
Ian McLaughlin
Jason Mello
Chazz Mendez
Malcolm C. Murray
James Newman
Jason Ng
Jim Ng
Josiah Nolan
Tom Place
Kevin Rogers
Bob Roseman
Joe Ross
Philip Silvera
Evan Taylor
Aaron Vexler
Pai-Sen Wang
Kenny Wong
Adam Wood
Kage Yami
Johnny Yang
"MARVEL'S LUKE CAGE" (Netflix)
Mohammed J. Ali
Manny Ayala
Steven Cachie Brown
David Chen
Justin V. Clarke
Andre Da Silva
Jared DiCroce
Guy Fernandez
Aja Frary
Roberto Gutierrez
Califf Guzman
Greg Harvey
Haaron Hines
Niahlah Hope
Warren E. Hull
James Lew
Roberto Lopez
Curtis Lyons
Brandon McClary
John McEnerney
Malcolm Murray
Mark Pettograsso
Victor Plajas
Panama Redd
Zack Roberts
Jeremy Sample
Elliot Santiago
Adam Shippey
Jenel Stevens
Derric Stotts
Valisa Tate
Duwaun White
"THE WALKING DEAD" (AMC)
Marcelle Coletti
Stephen Conroy
Gino Crognale
Elizabeth Davidovich
Greg Del Riva
Loren Dennis
Anthony Dirocca
Shauna Galligan
Cal Johnson
Kara Kimmer
Jordan Malone
Marque Ohmes
Meredith Richardson
Bayland Rippenkroger
Andrew Rusk
Felipe Savahge
Dalton Simons
Monty Simons
Savannah Simons
Nicole Marie Tomlinson
Amy Lynn Tuttle
Tony Vittorioso
"WESTWORLD" (HBO)
Kelli Bellini
Craig Branham
Brian Brown
Richard Bucher
Trav Cadwell
Whitney Coleman
Craig Davis
Mark Donaldson
Brian Duffy
Ryan Happy
Casey Hendershot
Scout Hendrickson
Dylan Hice
Freddie Hice
Dennis Keiffer
Derek Lacasa
Clint Lilly
Dario Perez
Kelly Richardson
Pat Ricotti
Cody Thornbury
Cassidy Vick Hice
Jordan Warrack
Vic Winters