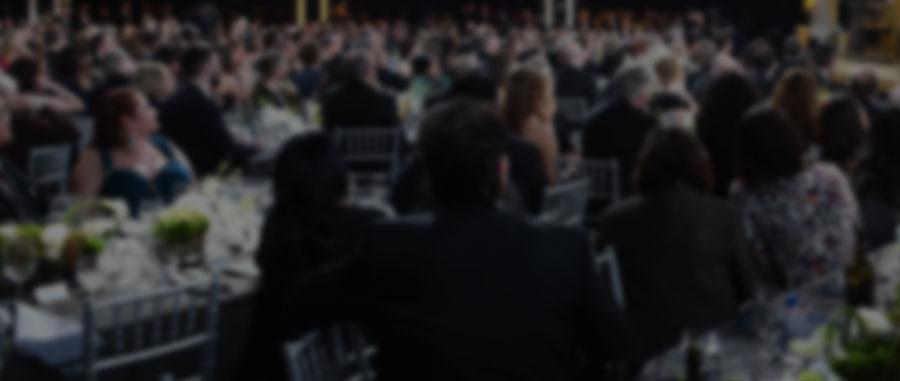 LOS ANGELES (Jan 21, 2015) — To create a dramatic arrivals area, impressive stage and intimate dinner setting for the world's leading actors who are gathering on Sunday, Jan. 25, the SAG Awards®staff must transform the Shrine Auditorium entrance and the adjoining Exposition Center. The Shrine complex is a Los Angeles landmark built in 1920 in Spanish Colonial Revival style with Moorish detailing. It's grandiose and beautiful on the outside, but the inner space of the Shrine's Exposition Center, with its 34,000 square foot wooden floor, paint-trimmed overhangs and bare columns, has to be redefined for each event.
This year's SAG Awards set emphasizes a modern take on classic Hollywood. The festive stage features oversized entry gates on either side framed by two broken prosceniums, all adorned with gold serpentine open scrolls. At center stage, the nominated performances and filmed tributes will be displayed on a large silver-framed gold-trimmed screen. Custom chandeliers, displaying over 500 feet of silver beads and illuminated with 50 feet of LED lights, echo throughout the showroom. The five magnificent light fixtures – four over the audience and one over the stage --- illuminate the clear podiums on stage left and right as well as the high gloss black floor outlined with gold trim. For the first time in SAG Awards history, 20,000 white roses will adorn the stage.
FOR THE STAR-STUDDED ARRIVALS AND TO TRANSFORM THE SHOWROOM, the SAG Awards will:
Lay 17,100 square feet of red carpet in the arrivals area, edged by 12,500 lineal feet of hedges
Accommodate 300 fans in three-row six-foot high bleachers placed along an 180' section of the red carpet arrivals area
Protect the red carpet from the elements by 21,500 square feet of tenting
Post five 10' Actor® statues along the red carpet and onstage
Lay 11,800 square feet of black carpet in the interior Shrine entrance and the showroom
Post three 10' Actor® statues along the red carpet
Cover the showroom walls with 15,000 square feet of black drape to create a neutral background and block sunlight
Install 20,000 white roses throughout the stage area
Each chandelier has over 500 feet of silver beads illuminated with 50 feet of LED lights
Float a 30' giant frame center stage with rear projection and LED illuminated surround
Line the stage floor with 300 4'x4' sheets of black glossy Formica
TO SET THE DINNER TABLES, the SAG Awards will:
Create custom table coverings from 1,306 linear yards of gunmetal crinkled organza, complemented by 1,200 Netherwood Mushroom lined napkins
Place over 3,600 Regency champagne, wine and water glasses, 2,400 pieces of Christian silver flatware and 1,200 Chelsea Gold china dinner plates, on 86 rectangular dinner tables and more than 2,400 glasses at two 16' beverage bars and two wine tasting bars
Soften more than 1,200 Silver Chiavari Chairs with more than 1,200 Chiavari Ice Bengaline seat cushions
Create a stunning visual setting through accentuating quintessential white florals with this year's inspiration representing classic Hollywood mixed with an edgy garden vide. To achieve this: glass containers will be lined with fabric and a design element featuring hundreds of feet of decorative metallic bronze wire. Over 2,000 stems of white roses, over 2,000 stems of white miniature Cala Lillies, over 2,000 stems of white Dendrobrium Orchids, 2,500 blossoms of green Cymbidium Orchids and 2,000 stems of green Dianthus highlighted with countless various textured foliage will be incorporated.
THE DINNER MENU
Guests will dine on fare conceived by award-winning chef Wolfgang Puck consisting of:
ANTIPASTO PLATE:
Kale Salad with Dried Cherries, Candied Pecans, Goat Cheese and Vinaigrette
Moroccan Spiced Chicken with Lentils and Chickpeas
Grilled Salmon with Truffle Tomato Vinaigrette, Arugula and Shaved Fennel
Hand Made Lavosh
VEGAN ALTERNATIVE PLATE:
Farro, Mint, Roasted Parsnips and Carrots with Roasted Red Pepper Dressing
Heirloom Carrots with Red Quinoa, Fennel and Hazelnut Vinaigrette
Persimmon Salad with Spiced Pumpkin Seeds, Mache and Maple Vinaigrette
Endive Salad with Beets, Blood Oranges, Kumquats and Smoked Paprika Vinaigrette
To prepare this menu, Wolfgang Puck Catering's order for the SAG Awards from their select group of purveyors includes:
125 lbs of Fennels
4000 pieces of Home Made Lavosh
325 lbs of Wild Alaskan King Salmon
400 lbs of Kale
100 lbs of Laurel Channel Goat Cheese
125 lbs of Lentils
20 gallons of Truffle Tomato Vinaigrette
325 lbs of Organic Chicken Breast
THE BEVERAGES
Champagne Taittinger is providing champagne for the SAG Awards for the 15th consecutive year, while four new wine varietals - one from Beringer of Knights Valley, one Chateau St. Jean of Sonoma Coast and two from Matua of New Zealand - make their SAG Awards debut. FIJI® Water will return for its fourth year. Both Champagne Taittinger and FIJI Water are also generous supporters of the SAG Foundation.
Champagne Taittinger is serving:
1 Magnum of Champagne Taittinger Brut La Française for the Champagne Taittinger toast that opens the SAG Awards Red Carpet
160 Magnums of Champagne Taittinger Brut La Française at the SAG Awards dinner
480 750 ml bottles of Champagne Taittinger Brut La Française at the showroom bars and the SAG Awards Gala
Champagne Taittinger is also providing Two Methuselah (6 Liter) bottles of Champagne Taittinger Brut La Française to be signed by Actor®® recipients for the SAG Awards auction benefiting the SAG Foundation
Fun fact: Each magnum contains 500 million bubbles!
Wines being served are:
336 bottles of 2012 Chateau St. Jean Sonoma Coast Chardonnay and 348 bottles of 2012 Beringer Knights Valley Cabernet Sauvignon at the SAG Awards dinner and Green Room
312 bottles of 2013 Matua Marlborough Sauvignon Blanc and 336 bottles of 2013 Matua Marlborough Pinot Noir at the showroom tasting bars
FIJI ® Water is serving:
3,264liters of FIJI's natural artesian water served in the showroom and at the SAG Awards Gala
2,000 tray-passed 500ml FIJI Water bottles with custom straws for red carpet guests
FIJI Water will debut an exciting new look for its iconic square bottle on the SAG red carpet, and on the tables at the SAG Awards Gala.
Patrón is introducing two new cocktails at the SAG Awards:
Cheers to The Actor!:
2 oz apple spice rooibos Infused Patrón Silver tequila
2 dashes of Angostura bitters
¾ oz ginger
1 oz lemon,
Soda Water
Shake everything but soda water. Add soda water to tin, pour, add ice and garnish with an apple slice
The 21:
2 oz Patrón Roca Blanco tequila
1 oz cucumber water
¾ oz spicy agave nectar
1 oz fresh lime juice
Shake and pour over ice; garnish with salt, pepper and a slice of cucumber
To create these cocktails, Patrón will be using:
17 Gallons of Raw Agave Nectar
80 Gallons of Perricone Fresh Lemon Juice
80 Gallons of Perricone Fresh Lime Juice
2 lbs of Habenero
2 lbs of Sea Giustos Salt
2 lbs of Fresh Spiced Pepper
7 lbs of Fresh Ginger
10 lbs Granulated Sugar
2 lbs of Hot House Cucumbers
70 Bottles of Patrón Roca Tequila
72 Bottles of Patrón Silver Tequila
IT TAKES MORE THAN A VILLAGE
By Sunday, Jan. 25, more than 700 staff and crew will be hard at work to make the SAG Awards a reality.
Sources:
Ed Blinn, The Patrón Spirits Company
Pamela Brunson, Marketing and Communications Specialist | Wolfgang Puck Catering
Chris Carr, Production Manager | SAG Awards
Keith Greco, SAG Awards Event Designer | Greco Décor
Elizabeth Hooker, Public Relations and Corporate Communications | Treasury Wine Estates
Katarina Maloney, PR Manager | Kobrand Corporation
Chris Matsumoto, SAG Awards Florist | CJ Matsumoto & Sons
Mickey Moscynski, Art Director | SAG Awards
Lauren Murray, Public Relations Manager | FIJI Water
Dennis Riley, Senior Manager Special Events/Entertaiment Industry Foundation
Andrea Wyn Schall, SAG Awards Event Supervisor | A Wynning Event
Joe Stewart, Production Designer | Shaffner/Stewart Production Design