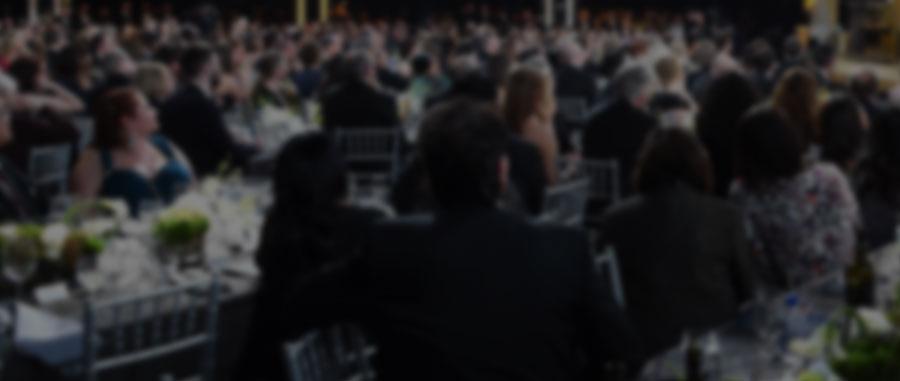 LOS ANGELES (Jan. 18, 2014) — SAG-AFTRA presented its coveted Actor® statuette for the outstanding motion picture and primetime television performances of 2013 at the "20th Annual Screen Actors Guild Awards®" in ceremonies attended by film and television's leading actors, held Saturday, Jan. 18, at the Los Angeles Shrine Exposition Center. The "20th Annual Screen Actors Guild Awards®" was simulcast live coast-to-coast by TNT and TBS at 8 p.m. (ET) / 5 p.m. (PT). A live stream of the SAG Awards® was also available for viewing online at sagawards.tntdrama.com and tbs.com, as well as through the Watch TBS and Watch TNT apps for iOS or Android. An encore presentation was telecast on TNT at 10 p.m. (ET)/7 p.m. (PT).
More than 100,000 active members of SAG-AFTRA nationwide were eligible to vote for the recipients. Honored with individual awards were Cate Blanchett, Jared Leto, Matthew McConaughey and Lupita Nyong'o for performances in motion pictures and Ty Burrell, Bryan Cranston, Michael Douglas, Julia Louis-Dreyfus, Helen Mirren and Maggie Smith for performances in television. The Screen Actors Guild Awards originated awards for the outstanding performances by a motion picture cast and by television drama and comedy ensembles. The Actor® for a motion picture cast performance went this year to "American Hustle," while the Actors® for television drama and comedy ensemble performances went this year to "Breaking Bad" and "Modern Family."
The honors for outstanding action performances by a stunt ensemble in film and television were awarded to "Lone Survivor" and "Game of Thrones." The stunt ensemble honors were announced during the SAG Awards Red Carpet Pre-show which was webcast live on sagawards.tntdrama.com, tbs.com and PEOPLE.com
Morgan Freeman presented Rita Moreno with the union's highest honor, the 50th Annual Life Achievement Award, following a filmed salute. Tom Hanks introduced a filmed "In Memoriam" tribute to the members lost in the past year.
PEOPLE magazine and the Entertainment Industry Foundation (EIF) hosted the Screen Actors Guild Post-Awards Gala for the 18th year. This exclusive event, immediately following the SAG Awards on the back lot of the Shrine Exposition Center, honors the philanthropic causes and good works of the members of SAG-AFTRA. The gala benefits the SAG Foundation.
The 20th Annual Screen Actors Guild Awards presented by SAG-AFTRA was produced by Jeff Margolis Productions in association with Screen Actors Guild Awards®, LLC. For more information about the SAG Awards, SAG-AFTRA, TNT and TBS, visit sagawards.org/about , "like" us at facebook.com/sagawardsofficialpage , follow us at twitter.com/sagawards , follow us on Google+ at google.com/+SAGawards , on Instagram at @sagawards , and on Tumblr at sagawards.tumblr.com .
The complete list of recipients of the 20th Annual Screen Actors Guild Awards® follows:
20th ANNUAL SCREEN ACTORS GUILD AWARDS® RECIPIENTS
THEATRICAL MOTION PICTURES
Outstanding Performance by a Male Actor in a Leading Role
MATTHEW McCONAUGHEY / Ron Woodroof – "DALLAS BUYERS CLUB" (Focus Features)
Outstanding Performance by a Female Actor in a Leading Role
CATE BLANCHETT / Jasmine – "BLUE JASMINE" (Sony Pictures Classics)
Outstanding Performance by a Male Actor in a Supporting Role
JARED LETO / Rayon – "DALLAS BUYERS CLUB" (Focus Features)
Outstanding Performance by a Female Actor in a Supporting Role
LUPITA NYONG'O / Patsey – "12 YEARS A SLAVE" (Fox Searchlight Pictures)
Outstanding Performance by a Cast in a Motion Picture
AMERICAN HUSTLE (Columbia Pictures)
AMY ADAMS / Sydney Prosser
CHRISTIAN BALE / Irving Rosenfeld
LOUIS C.K. / Stoddard Thorsen
BRADLEY COOPER / Richie DiMaso
PAUL HERMAN / Alfonse Simone
JACK HUSTON / Pete Musane
JENNIFER LAWRENCE / Rosalyn Rosenfeld
ALESSANDRO NIVOLA / Federal Prosecutor
MICHAEL PEÑA / Sheik (Agent Hernandez)
JEREMY RENNER / Mayor Carmine Polito
ELISABETH RÖHM / Dolly Polito
SHEA WHIGHAM / Carl Elway
TELEVISION PROGRAMS
Outstanding Performance by a Male Actor in a Television Movie or Miniseries
MICHAEL DOUGLAS / Liberace – "BEHIND THE CANDELABRA" (HBO)
Outstanding Performance by a Female Actor in a Television Movie or Miniseries
HELEN MIRREN / Linda Kenney Baden – "PHIL SPECTOR" (HBO)
Outstanding Performance by a Male Actor in a Drama Series
BRYAN CRANSTON / Walter White – "BREAKING BAD" (AMC)
Outstanding Performance by a Female Actor in a Drama Series
MAGGIE SMITH / Violet, Dowager Countess of Grantham – "DOWNTON ABBEY" (PBS)
Outstanding Performance by a Male Actor in a Comedy Series
TY BURRELL / Phil Dunphy – "MODERN FAMILY" (ABC)
Outstanding Performance by a Female Actor in a Comedy Series
JULIA LOUIS-DREYFUS / Vice President Selina Meyer – "VEEP" (HBO)
Outstanding Performance by an Ensemble in a Drama Series
BREAKING BAD (AMC)
MICHAEL BOWEN / Uncle Jack
BETSY BRANDT / Marie Schrader
BRYAN CRANSTON / Walter White
LAVELL CRAWFORD / Huell
TAIT FLETCHER / Lester
LAURA FRASER / Lydia Rodarte-Quale
ANNA GUNN / Skyler White
MATTHEW T. METZLER / Matt
RJ MITTE / Walter White Jr.
DEAN NORRIS / Hank Schrader
BOB ODENKIRK / Saul Goodman
AARON PAUL / Jesse Pinkman
JESSE PLEMONS / Todd
STEVEN MICHAEL QUEZADA / Gomez
KEVIN RANKIN / Kenny
PATRICK SANE / Frankie
Outstanding Performance by an Ensemble in a Comedy Series
MODERN FAMILY (ABC)
JULIE BOWEN / Claire Dunphy
TY BURRELL / Phil Dunphy
AUBREY ANDERSON EMMONS / Lily Tucker-Pritchett
JESSE TYLER FERGUSON / Mitchell Pritchett
NOLAN GOULD / Luke Dunphy
SARAH HYLAND / Haley Dunphy
ED O'NEILL / Jay Pritchett
RICO RODRIGUEZ / Manny Delgado
ERIC STONESTREET / Cameron Tucker
SOFIA VERGARA / Gloria Delgado-Pritchett
ARIEL WINTER / Alex Dunphy
SAG AWARDS® HONORS FOR STUNT ENSEMBLES
Outstanding Action Performance by a Stunt Ensemble in a Motion Picture
LONE SURVIVOR (Universal Pictures)
Outstanding Action Performance by a Stunt Ensemble in a Comedy or Drama Series
GAME OF THRONES (HBO)
LIFE ACHIEVEMENT AWARD
Screen Actors Guild 50th Annual Life Achievement Award
RITA MORENO