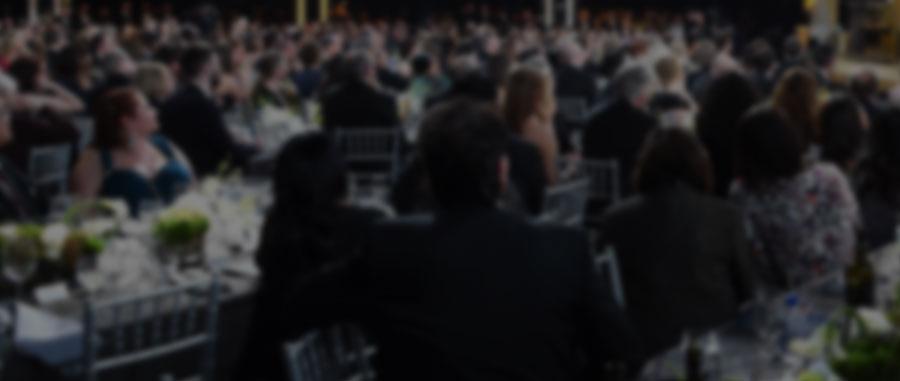 To create a dramatic arrivals area, impressive set and intimate dinner setting for the world's leading actors who are gathering on Sunday, Jan. 29, 2012 the SAG Awards® staff must transform the Shrine Auditorium entrance and the adjoining Exposition Center. The Shrine complex is Los Angeles landmark built in 1920 in Spanish Colonial Revival style with Moorish detailing. It's grandiose and beautiful on the outside, but the inner space of the Shrine's Exposition Center, with its 34,000 square foot wooden floor, paint-trimmed overhangs and bare columns, has to be redefined for each event.
FOR THE STAR STUDDED ARRIVALS AND TO TRANSFORM THE SHOWROOM the SAG Awards will:
? Lay 15,872 square feet of red carpet in the arrivals area, edged by 585 lineal feet of hedges
? Accommodate 300 fans in three-row six-foot high bleachers placed along an 180' section of the red carpet arrivals area
? In the event of rain, protect the red carpet from the elements by 23,530 square feet of tenting
? Post five 10' Actor® statues along the red carpet and onstage.
? Lay 11,800 square feet of black carpet in the interior Shrine entrance and the showroom.
? Drape the interior Shrine entrance with 4,575 square feet of charcoal/silver shimmer fabric
? Post three 10' Actor® statues along the red carpet.
? Cover the showroom walls with 15,000 square feet of black drape to create a neutral background and block sunlight.
? On the stage, install 700 feet of steel tubing to support 120 running feet of 22' high set walls punctuated by eight gold and platinum fluted columns and a central radiating backlit golden sunburst. Two stepped deco arches will be accented by 30 feet of translucent etched fins. Crowning the stage will be 400 feet of gold-leafed and copper-leafed deco molding, illuminated by 400 feet of warm white neon tubing.
? Float a 20' wide "silver screen" framed by a platinum and gold screen-surround illuminated by 80 feet of embedded LED lights at center stage in front of 200 running feet of 30' high fiber-optic star cloth.
? Line the stage floor with 150 '4'x8' sheets of black Formica.
? Above the stage hang a 5-foot square crystal beaded art deco chandelier that will be echoed by the four chandeliers hung from the Expo Hall's ornate ceiling.
TO SET THE DINNER TABLES, the SAG Awards will:
? Place over 3,600 Opus champagne, wine and water glasses, 2,400 pieces Scalini silver flatware and 1,200 square glass dinner plates, on 86 rectangular dinner tables and over 2,400 glasses at two 16' beverage bars and two wine tasting bar.
? Create custom table coverings from 1306 linear yards of gunmetal crinkled organza, complemented by 1,200 silver satin matte lined napkins
? Soften 1,200 Silver "Simply X" Chameleon chairs with 1,200 black suede seat cushions
? Create a stunning visual setting through the use of florals. This year's inspiration is a return to the roots. It is an organic approach using the various elements of foliage creating a textured landscape in shades of greens. The compositions incorporate thousands of stems of various foliage, green dianthus, various grasses, calathea, equisetum highlighted with hundreds of succulents, complimented with over 3,000 blossoms of miniature green cymbidium orchids and 4,000 white miniature cala lilies. Each of the arrangements is made in a glass container lined with frosted glass adding a slightly contemporary look to the textured landscaped style. It is the look of a newer Hollywood.
THE DINNER MENU
Guests will dine on antipasto plates conceived by James Beard Award-winning chef Suzanne Goin, deliciously prepared and artfully arranged by Lucques Catering, consisting of:
MAIN PLATE:
? Slow-roasted salmon with yellow beets, spicy carrot salad and raita
? Roasted root vegetables with quinoa and persimmon salsa
? Grilled chicken breast with black rice, pea shoots and tangerine vinaigrette
VEGETARIAN PLATE:
? Spicy carrot salad with yellow beets, cucumber and black mustard seeds
? Roasted root vegetables with quinoa and persimmon salsa
? Black rice salad with english peas, pea shoots and tangerine vinaigrette
To prepare this menu, Lucques order for the SAG Awards® from their select group of purveyors includes:
? Baby Carrots
625 bunches
McGrath Farms
? Beets
468 bunches
McGrath Farms
? Black Rice
14 gallons
Provvista
? Black pepper
12 cups
Michael Phung
? Bread
95 loaves
Tavern
? Butter
8 cups
Provvista
? Chicken
156 chickens
Premier
? Cous Cous
10 gallons
Provvista
? Cumin
2 cups
Provvista
? Fleur de sel
5 cups
Forever Cheese
? Garlic
7 heads
Schaner Farms
? Jalapenos
75
Pacific Exotic Mushrooms
? Lemon
175
Schaner Farms
? Mustard Seed
8 cups
Provvista
? Olive oil
12 gallons
Provvista
? Parmesan
150 lbs
Forever Cheese
? Parsley
175 bunches
Rutiz Farms
? Persimmons
630
J.J.'s Lone Daughter Ranch
? Rutabagas
600 bunches
Flora Bella Farm
? Salmon
120
Ocean Jewels
? Salt, kosher
4 cups
Sysco
? Shallots
400
Schaner Farms
? Sherry vinegar
1.2 gallons
Provvista
? Tangerines
435
Schaner Farms
? Tarragon ?
3 cups
Pacific Exotic Mushrooms
? Thyme
5 cups
Rutiz Farms
? Turnips
690 bunches
Flora Bella Farms
? Yogurt
2 gallons
Pacific Exotic Mushrooms
? Yogurt, greek
2 gallons
Pacific Exotic Mushrooms
Some interesting facts from Lucques Catering Director Jessica Goin about the purveyors chosen by Chef Suzanne Goin:
Provvista (www.provvista.com) is a great specialty food company started by Joe Guth, a close friend who cooked with Suzanne at Chez Panisse!
Another great family farm is Rutiz Farms (www.rutizfarms.com), owned by Jerry Rutiz. Suzanne describes his carrots in her cookbook, "This exotic spiced snapper dish evolved from the most mundane ingredient in the mix: the everyday carrot. But the carrots that inspired it, grown by local farmer Jerry Rutiz, are by no means ordinary. His funky-shaped, dirt-encrusted carrots are the sweetest and most delicious of any I've tasted."
Peter Schaner of Shaner Farms is probably one of our favorite people in all the world. We even held his brother's wedding at Lucques. We get our suckling pigs from another brother. Peter has incredible citrus, avocados, pomegranates, child raising tips….
Ocean Jewels is owned by Julie Harman, who we call what else – Ocean Julie. She does amazing work finding great sustainably fished product, it seems like she and Suzanne drive themselves crazy hunting for the most delicious fish that has the smallest impact on the environment. (i.e. are you better off with a local fish that isn't fished as sustainably or a fish that is more sustainable but has to be flown in?)
Flora Bella Farm (www.florabellafarm.com) is owned by James Birch. Here's how Suzanne described him in her cookbook: "If you leaned against your sink, closed your eyes, and focused on conjuring up the quintessential organic farmer, James Birch would appear in your kitchen. He looks like a cross between a grizzly bear and an overgrown Little Prince. And he is, in fact, the king of broccoli."
J.J.'s Lone Daughter Ranch is an organic-certified group of orchards run by second-generation grower Laura Ramirez, who grew up in father J.J.'s orchards. Laura has become a favorite of chefs, thanks to her penchant for unusual fruits.
The McGrath family grows special orders for top chefs of organic, sustainably farmed fruits and vegetables at their century-old family farm in Camarillo, California (www.mcgrathfamilyfarm.com) which boasts a farm center offering a daily market agricultural education that are open to the public.
Mycologist Mohamad Ismail has been gathering exotic fungi from remote forested areas along the Pacific Coast for nearly 30 years.
Nathan Dakdouk the Master Baker for The Lucques Group, which owns Lucques, Tavern, AOC and Lucques Catering. He's a true artisan who makes a wonderful "pain au levain" which is a chewy and flavorful sourdough which he learned to bake as a child in Venezuela. His breads are beautiful and hearty -- as flavorful as his personality.
THE BEVERAGES
Champagne Taittinger and Dry Creek Vineyard are providing champagne and wine for the SAG Awards for the 12th consecutive year. Both are multi-generational family-owned companies. Taittinger and Dry Creek are generous supporters of the SAG Foundation, as is the SAG Awards newest beverage sponsor, FIJI® Water.
Champagne Taittinger is serving:
? 1 magnum of Champagne Taittinger Brut La Française for the Champagne Taittinger toast that opens the SAG Awards Red Carpet. Each magnum contains 500 million bubbles!
? 234 magnums of Champagne Taittinger Brut La Française in the showroom
? 144 magnums of Champagne Taittinger Brut La Française at the post-Awards gala
Dry Creek Vineyard is serving:
? For the tables: 126 magnums of Dry Creek Vineyard's 2006 Endeavour, a Dry Creek Valley Cabernet Sauvignon, rated 91 points by Wine Enthusiast Magazine and 252 bottles of the 2010 Sonoma County Fumé Blanc, rated 90 points by Winereviewonline.com.
? Dry Creek Vineyard's wine-tasting bars will offer a selection that includes the newly released 2009 Russian River Valley Foggy Oaks Chardonnay and the 2007 The Mariner from the Dry Creek Valley, rated 93 points from Winereviewonline.com. A total of 132 bottles will be available for tasting.
FIJI® Water is serving:
? 2760 liters of FIJI's natural artesian water served in the showroom and at the post-Awards Gala
? Another 15,120 third-liters served to staff, crew and the more than 800 media and 300 fans in the bleachers as well as placed in the Gala gift bags.
IT TAKES MORE THAN A VILLAGE!
By Sunday, January 29, more than 700 staff and crew will be hard at work to make the SAG Awards a reality.
Sources:
John Shaffner & Joe Stewart, SAG Awards Production Designers
Keaton Walker, SAG Awards Art Director
Mickey Moscynski, SAG Awards Arrivals Art Director
Keith Greco, Keith Greco Designs, SAG Awards Art Director
Andrea Wyn Schall, A Wynning Event, SAG Awards Event Supervisor
Chris Matsumoto, CJ Matsumoto & Sons, Florist
Suzanne Goin, Chef & Jessica Goin, Catering Director, Lucques Catering
Marybeth Bentwood, Director of Public Relations Kobrand Corporation
Kim Stare Wallace, Dry Creek Vineyard Owner
Lauren Murray, FIJI® Water Public Relations Manager
Benn Fleishman, SAG Awards® Executive in Charge of Production
The 18h Annual Screen Actors Guild Awards will be simulcast live on TNT and TBS Sunday, Jan. 29, 2012, at 8 p.m. (ET)/5 p.m. (PT), with a encore telecast following immediately on TNT.